FirstMate楓味 無榖物配方 太平洋海魚藍莓配方 – 全貓糧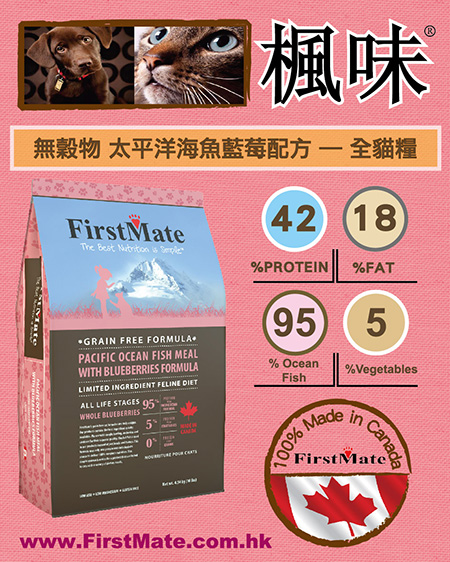 Grain Free Fish & Potato With Blueberries
無榖物配方 海魚藍莓配方 – 全貓糧
(包裝4磅, 10磅) 
FirstMate's Renaissance cat diet is a wonderful choice for kittens or cats at all stages of life. Wild herring provides a single source novel protein. The simplistic grain free design allows for easy digestion and a reduced chance of allergic reaction. The Renaissance diet is loaded with fresh blueberries which provide a nutritional source of antioxidants. Blueberries promote a healthy immune system, urinary tract, increase eyesight and memory function, help prevent cancer, and provide a nutritional source of dietary fiber. All FirstMate formulations are manufactured at our plant located in Chilliwack B.C. Canada with care. 
FIRSTMATE特別為對高要求之貓貓主人而設之全貓期乾糧
野生魚提供了唯一的蛋白質來源。
無穀物配方設計有利於消化和減少過敏反應的機會。
新鮮藍莓提供了抗氧化劑營養來源。
藍莓促進健康的免疫系統,泌尿道,提高視力和記憶功能,有助於防止癌症,並提供膳食纖維的營養來源。
所有FirstMate配方是自家廠生產位於加拿大卑詩省奇利瓦克。
全天然材料成份:
Wild herring meal and/or wild anchovy meal and/or wild sardine meal, potato, chicken fat* (preserved with mixed tocopherols), whole blueberries, dicalcium phosphate, dl-methionine, choline chloride, calcium propionate, yucca plant extract, minerals (zinc proteinate, iron proteinate, manganese proteinate, copper proteinate, iodine, cobalt, selenium), vitamins (vitamin C, vitamin E, riboflavin, niacin, d-pantothenic acid, thiamine, vitamin A, pyridoxine, folic acid, biotin, vitamin B12, vitamin D3), taurine, glucosamine.
野生鯡魚茸,野生鳀魚茸,野生沙丁魚茸,馬鈴薯,雞脂肪(以混合維生素E保存),全粒藍莓,磷酸氫鈣, DL -蛋氨酸,氯化膽鹼,丙酸鈣,絲蘭植物提取物,礦物質(鋅蛋白鹽,鐵蛋白鹽,錳蛋白鹽,銅蛋白鹽,碘,鈷,硒),維生素(維生素C ,維生素E ,核黃素,菸酸,D -泛酸,硫胺素,維生素A,維生素B6,葉酸,生物素,維生素B12 ,維生素D3 ),牛磺酸,葡萄糖氨。
*The chicken fat used in FirstMate pet foods is processed free of protein, eliminating the risk of allergies derived from chicken.
* *雞脂肪用於此配方是沒有蛋白質,從而消除來自雞的過敏風險.*
FEED ANALYSIS: 飼料分析:
Protein (minimum) 蛋白質(最低)…..42.0 %
Fat (minimum) 脂肪(最低)…………18.0 %
Moisture (maximum) 水份(最高)…..10.0 %
Fibre (maximum) 纖維(最高)………3.0 %
Ash (maximum) 灰份(最高)……….6.0 %
Magnesium鎂…………………………0.089 %
Calcium 鈣……………….....................1.9 %
Phosphorous磷………………..............1.3 %
Calcium / Phosphorous ratio鈣/磷比值…………1.5 : 1.0
KCal/Cup As Fed 卡路里…………………….570 (130grams/8oz cup)